Mancelona Township Board of Review will be meeting on Monday, March 14, 2016 from 9:00 a.m. to 3:00 p.m., and Tuesday, March 15, 2016 from 3:00 p.m. to 9:00 p.m.
If you plan to attend the meeting, please bring documents to support your assessment change.
Please call in advance to set up an appointment. 231-587-4737 (assessor's office)
Spring Clean-Up Day in Mancelona Township is set for Saturday, May 21, 2016.
IMPORTANT:
Township of Mancelona
P.O. Box 332
Mancelona, MI 49659-0332
Phone: (231) 587-8651 Fax: (231) 587-0708
RESIDENTS OF MANCELONA TOWNSHIP
The Township of Mancelona, Antrim County, will hold a "cleanup day" on the above stated date from 7:00 a.m. to 12:00 noon. A contractor will provide trash trucks at Palmer Park. Residents may bring one pickup truck or utility trailer load per household.
Elections dates for 2016 are posted below. Polls are open 7:00 a.m. to 8:00 p.m. at Mancelona Township Hall. Please remember to bring a driver's license or Michigan identification.
If you are not yet registered to vote, you must register at least one month prior to the election! Applications are available at Mancelona Township Hall and the Secretary of State offices.
Mancelona Township Offices located at 9610 S. M-88, Mancelona (approx. 1/4 mile west of West Limits / Cedar River Road intersection).
March 8, 2016 - Presidential Primary
August 2, 2016 - State and Local Primary
November 8, 2016 - General Election
To further information visit: http://michigan.gov/elections
The next tax cycle is for Winter tax collection. Taxes can be paid December 1, 2015 through February 29, 2016 at Mancelona Township Offices.
Dog licenses can be purchased at that time, up until December 30. After December 30, dog licenses can be renewed at the county offices. When purchasing dog licenses, please bring proof of current rabies shots.
Drop box is available at Township office.
Questions may be directed to the Treasurer's office at 231-587-5171. Sue Robinson, Roger Anger or Shawn Fleet will be able to assist you.
Payments may be made by credit card or debit card at: www.MancelonaTwp.is.bsasoftware.com There will be a convenience fee added to this service.
Hours of Tax Collection: Monday through Thursday, 9:00 a.m. to 12:00 p.m., and 1:30 p.m. to 3:30 p.m.
Mancelona Township recently renovated the entry steps at the library on State Street in Mancelona. The entry has a new landing area and steps with hand rails, and provides for a warmer welcoming for our patrons. The concrete work was done by Ron Hudson Masonry of Mancelona, and Michigan Lake Products of Elk Rapids installed the railing. The project was completed in September, 2015.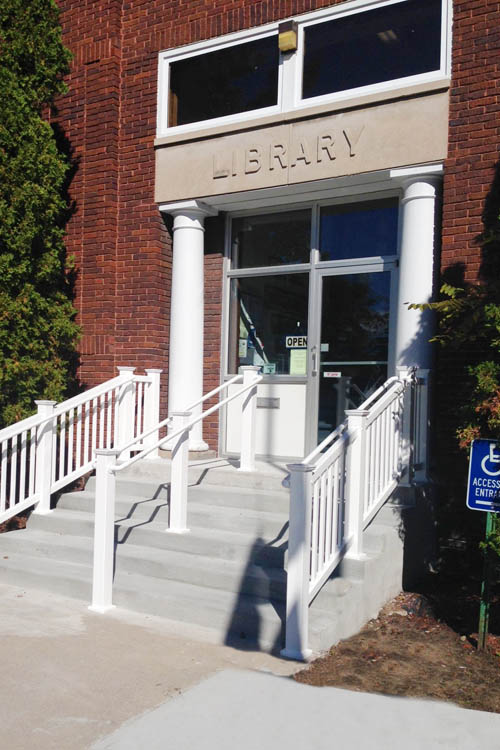 EDUCATIONAL PROGRAMS
Every Tuesday at 3:30 p.m. there is a story and craft time in the lower level of the library.
For additional information on these events please call 231-587-9451.
STORY TIME
Story time is on Tuesdays at 3:30 p.m.
Library located at 202 W. State Street, downtown Mancelona
Phone: 231-587-9451
Hours: Monday through Friday 10:00 a.m. to 6:00 p.m.
Saturday: 10:00 a.m. to 12:00 p.m.


IMPORTANT: As of July 1, 2014, if your winter tax bill is less than $100, you will only receive one tax bill in the summer. Therefore, your total bill will be issued on July 1 and due by September 14 (without interest) for the 2015 tax year. You will not receive a bill in the winter.
February 29, 2016 is the last day to pay at Mancelona Township Offices.
Paying after hours -- a drop box is available on the Mancelona Township Treasurer's office door.
You may pay by debit/credit card (there is a fee for this service) at the office or on-line.
Pay on line at www.mancelonatwp.is.bsasoftware.com

Fee for online or office credit/debit payments: 3% (minimum $1.50)
Fee for online or office e-check $3 flat fee

SUMMER TAX COLLECTION HOURS:
Call: 231-587-5171
9611 South M-88, Mancelona, MI 49659
By mail: PO Box 332, Mancelona, MI 49659
VILLAGE of Mancelona taxes - contact Mancelona Village, 231-587-8331.
Many Mancelona Township residents took advantage of the annual clean-up day held here May 16, 2015. Residents brought truckloads of trash and unwanted materials to Palmer Park where American Waste workers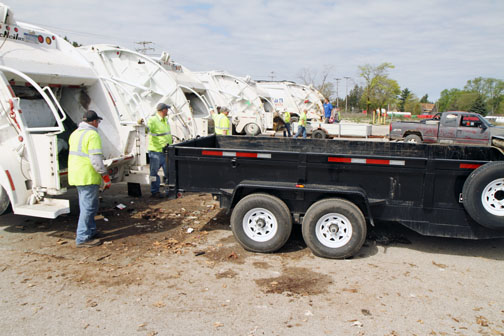 were on hand to collect it. The annual clean-up day is set by Mancelona Township.
The deadline for 2015 Summer Tax Collection and 2015 Winter Tax Collection is February 29, 2016. Taxes may be paid at Mancelona Township Office.
Dog licenses will be available from December 1, 2015 through February 29, 2016. Please bring proof of current rabies shots.
On-line payment is available - click this link. A convenience fee will be added.
Did you know the Mancelona Township Offices is the location for recycling in our area? Paper/Cardboard items (such as boxes, newspapers, magazines, catalogs, glossy print items, office paper, junk mail, phone books, shredded paper, juice and milk cartson) are all accepted. Plastic jugs, jars, tubs, trays, water bottles, milk jugs, shampoo bottles, laundry detergent containers and clean plastic grocery bags can be dropped off in the recycle bins. You may also drop off glass containers and bottles of all colors, and completely empty food jars of all sizes. You may also recycle aluminum and steel cans, and aluminum foil.
What can't you leave? No kraft (padded) envelopes, no styrofoam, no wet or yellowed papers. No batteries of any kind, no broken window glass, no dishes, no light bulbs.
Some items not accepted in the recycling program will be accepted at the Household Hazardous Waste Days (for details, visit www.AntrimCounty.org/recycling.asp )
Questions may be directed in phone by calling (231) 533-3555.