MANCELONA TOWNSHIP BOARD
To reach the Trustees or Supervisor by phone, please call the Township office at 231-587-8651 and leave a message. Your call will be returned.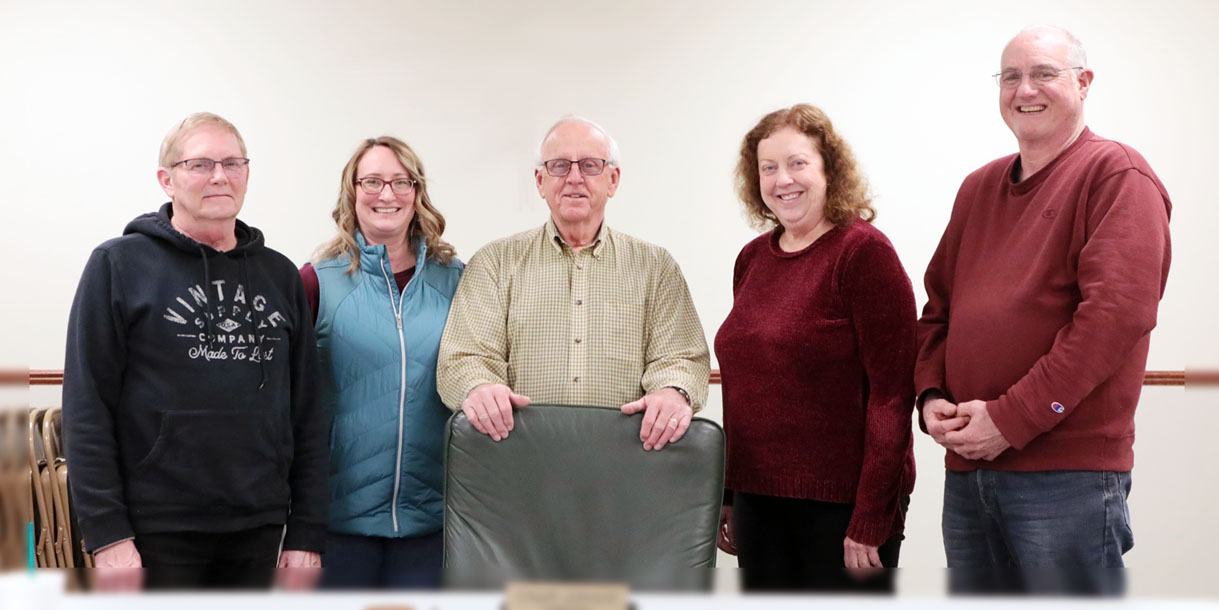 Pictured, from left: Clerk Mike Biehl, Treasurer Jessie Ayoub, Supervisor Chuck Johnson, Trustee Donna Gundle-Krieg, Trustee Rod Vesey
SUPERVISOR CHUCK JOHNSON - Chuck Johnson was (re)elected November 2016 to serve as Mancelona Township Supervisor. Chuck was previous supervisor in the township but left to fill a vacancy as County Commissioner. Mr. Johnson's desire is to serve the area at the Township level; he ran for Supervisor and was elected. In November, 2020, Chuck was re-elected to a four year term. Reach him via email at chuckj50 at hotmail.com


CLERK MICHAEL BIEHL - Mike Biehl was elected Mancelona Township Clerk in November, 2008. He is a lifelong resident of Mancelona. Clerk Biehl can be reached at 231-587-8651 ext. 10. Mr. Biehl was re-elected November, 2016, and again in November, 2020. To reach him by e-mail: twpclerk at mancelonatownship.com

TREASURER JESSIE AYOUB - Jessie was elected in November, 2020. TREASURER OFFICE HOURS: Effective Wednesday, September 16, 2020, the hours of Mancelona Township Treasurer will be as follows: Monday through Thursday, 9:00 a.m. to 12:00 p.m. To reach her by e-mail: treasurer at mancelonatownship.com


TRUSTEE DONNA GUNDLE-KRIEG - Donna Gundle-Krieg was elected in November, 2020 to a four-year term. Donna is a real estate broker who moved from the Detroit area ten years ago. She has enjoyed being a part of the rebuilding of Mancelona. She may be reached at dokrieg at gmail.com


TRUSTEE ROD VESEY - Long time Mancelona resident Rod Vesey was elected Township Trustee in November, 2016. Mr. Vesey served as a Police Officer in Mancelona for more than thirty years, retiring from his law enforcement career in April, 2016. He continued to serve as a part-time officer with the department until he "really" retired at the end of 2022. Rod was re-elected to his four-year term in November, 2020.